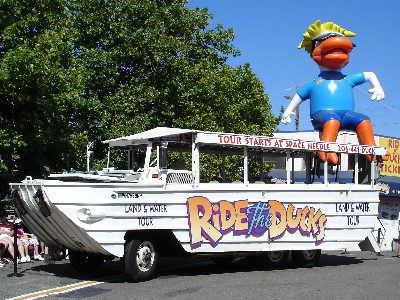 I personally don't have a problem with the Ride-the-Ducks tourist boat. I would even go on one if I had relatives in town who were jonesing for a land-to-water tour of Seattle accompanied by a soundtrack that includes "YMCA."
My friends, however, think it's embarrassing that we even has such a cheesy attraction. The drivers yell things at locals walking down the street, and some of my pals are not amused.
There was something blackly humorous when, a few months ago, someone tried to burn the Seattle Ride-the-Ducks hub to the ground. Many joked that it was probably someone on the amphibious boat's route.
It's not so weird that the 50-year-old man who set the fire was a meth head who saw "shoes under his bed" and decided they were worn by people out to get him.
Or that he yelled at them to leave, and then left his apartment.
Or even that when he came back he saw "two people under his bed" and two more "people hiding under clothes in his closet."
What is weird is that he ran off to the Ride the Ducks office where he worked and that he says he started the fire in an effort to call for help.
The damage is estimated at $70,000.
Today a Ride-the-Ducks boat collided with a barge in Philadelphia and two people are missing.
Is it time to actually vet the people who work for this company instead of just making fun of them for being cheesy?